NOTE:
This will be the last release of my hand , personal stuff like kids and wife are the most important thing in my life.
I hope you enjoy my creations and some of you may continue what I started.
I would like to thank THOR for all his help and a place like this.
---
LIKE MY FLEXSTRIKER !
Always take a "NANdroid" backup with cwm before you flash anything and take a "Titanium Backup" from your APPS.

PLEASE FOLLOW INSTALLATION INSTRUCTIONS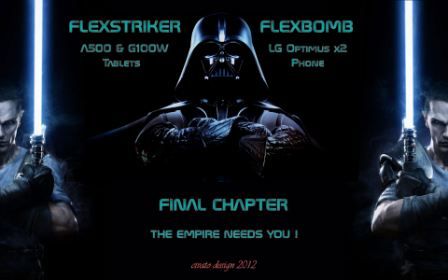 First time you install this ROM


BEFORE you flash this ROM with CWM.
Wipe Data/factory reset , Cache, dalvik and BatteryStats!!!!!
Format : system , data , cache , flexrom !!!!!!
FLEXSTRIKER-R9.5 & R9.6-oc-BASE
civato-FLEXSTRIKER-R9.5-oc-BASE
D8DB673193B7635A3B3933F4D9253B67 *civato-FLEXSTRIKER-R9.5-OC-BASE.zip
I can provide private download link if you are unable to download true rapidshare and you pm me , but please try rapidshare link first.
R9.5 to R9.6 updater
(so you don't need to download the whole rom) , this also installs new working Polaris Office app , remove the Polaris Office on your tablet first if you got one installed !
civato-FLEXSTRIKER-R9.6-OC-BASE.zip
FCF889C12B2CA2709520BEC395C3B777 *civato-FLEXSTRIKER-R9.6-OC-BASE.zip
(

Exactly the same as R9.5

but the working Polaris app is in this one , and a different download server)
Installation note for people coming from previous FLEXSTRIKER roms , even R9.1. Please wipe dalvik and cache , there have been structural changes in the rom !
R9 base has no CRT animation and % battery any more due to the browser FC but there is still a mod available for crt animation and % battery but then you will have the FC on browser when using the "search on page" option.
Circel Battery% mod andd crt animation for stock look if you can live with the bug in the browser: R9-CRT-Battery-mod-stock-look
INSTALLATION NOTE:




This is base rom ,form this one you start and add what you want ,


First you flash the base rom and reboot ! Then you go back into recovery and first flash the 3G if you want it and then the THEME mods.
There is no flashplayer installed in the rom , you can download latest from the market or if you want HULU you use the HULU installer.
People coming from FLEXSTRIKER R4 don't need to wipe anything , only need to install what they want , if yo already got HULU installed no need to reinstall it if you don't wipe data.



Market is 3.17 but will auto update to 3.4.4 after you used the market a few times






FLEXSTRIKER-R9.5 & R9.6 3Gusb support installer


Civato-FLEXSTRIKER-R9.6-oc-3Gusb-installer

INSTALLATION NOTE:
You flash this over the BASE ROM , now you can use 3Gusb Huawei dongle and send text messages , mms app and 3Gusb restarter is also installed.

Energy tip: Not using 3G , put airplane mode on and wifi on if you need it , if you don't do that tablet keeps searching for mobile network.





FLEXSTRIKER-HULU installer


FLEXSTRIKER-HULU-INSTALLER
HULU installer (mirror2)
INSTALLATION NOTE:
You flash this over the base ROM . (thanks to Williamfold)
This installs a modified flashplayer 11.1 that alows to play HULU and it installs the HULU+app.
You can remove the HULU flashplayer from apps like any app , don't update the HULU flashplayer true market , you will get error or you lose HULU support.





FLEXSTRIKER ID changer to G100W ( if you want that your tablet is recognized as a PackardBell G100W , by default it is A500)


(flash with cwm after you flashed the rom)

FLEXSTRIKER-R9.6-ID-CHANGER-A500-TO-G100W-no3G

FLEXSTRIKER-R9.6-ID-CHANGER-A500-TO-G100W-3G




R8 =Based on HC3.2.1 ACER_A500_7.014.015_COM_GEN1



Hulu support with included modded Flashplayer.
-Rooted
-Bootloader.blob removed
-deodexed
-pngoptimized
-zipaligned
-Tweaked for speed
-BusyBox
-Superuser 3.07 , bin 3.0.3.2
-tun
-cif
-small add free hosts
-Crypted gps patch 3.1
-THOR 3.9r4Kernel
-NATIVE NTFS SUPPORT
-Integrated Ad-Hoc-Wifi
-Integrated DHCP wifi lease patch (Thanks to ezterry)
-Optional 3Gusb Huawei support
-civato MODS available
-Asus weather widget , E-mail widget , Toshiba mediaplayer with streaming support

[b]

APK'S and widget included in the base rom:



Agenda/Browser/Camcorder/camera/contacts/Clock/Downloads/EMail/Asuse-mail widget/Asus weather widget/Drivemount/Livewallpapers/Music2/Galery/GMAIL/GoogleSearch/Settings/Streets/Market3.4.4/Mediaserver/My water wallpaper/Navigate/ VideoEditorGoogle /VoiceRecorder/VoiceSearch/Supernote/Superuser3.07/Talk/YouTube
APK'S in data (can be removed in Apps)
HideBar
PhotoEditor
Skype
Terminal
HULU-Plus
Polaris Office
TouchscreenBooster
QuickPic-1.4.0
DefaultAppMananger-1.0
Toshiba mediaplayer
Default app manager
mobo mediaplayer
cube calculator
soundback
soundHound
switchMe
Lumiread
Games: NFS ; LetsGolf ;Simcity delux
Flexspeed addON's with default icons (if you want more default system apps)
FLEXSTRIKER-R8-R9-addON-FLASHER-release2
-Change in how to use , please read instructions.

-No more color icons , sorry to much work , maybe I upload just the icons and you can use a folder orginazer to use them.
How it works:
-First download the "FLEXSTRIKER-R8-addON-FLASHER"
-In the addON-FLASHER all the apps are pressent so you need to delete the ones you don't want to have.
-You can open it (don't unzip) with winrar or something simular , go to system/app , there you find all the apps.
-Delet the ones you don't want and put the addON-FLASHER on your tablet and flash with cwm - reboot.



Apps that are in the "system APPS for use with addON-FLASHER"


3DPhotoBrowser/Acersync/AcerDNLA/Acerclockwidget/ApinAP/Aupeo/Books/AgendaWidge/calculator/ClearFI/DTG(documents to go full)/Dualclock/gameloft/ICSClock/LinkToFacebook/nemoplayer(acermediaplayer)/SocialJogger/TegraZone/WeatherWidget/XT9/Zinioreader.
(remember , some apps need a other app to work , example: clearfi needs acerDNLA)

TIPS:




- 3Gusb:


If the connection won't start use the 3Grestarter or when you put the 3Gusb in after boot ALWAYS use the 3Grestarter.(3gusb icon turns blue in notification bar and mobile settings will be available in settings)
It is possible you need to change APN settings in the mobile settings.
(I got a Huawei E1552 and it is working supurb)
Had to follow this tutorial to make my 3G dongle ready :setting up your 3Gusb dongle



-Dont want 3G

(and the sim card message) , you can delete the 3Grestarter app and mms app from system /apps without any problems.
Uncomment line 84 in buil.prop ro.carrier=wifi-only



- Problems with GPS,

try other patch from crypted, AGPS Patch Iconia 3.1 & 2.2 | GET BACK TO RAPID GPS LOCK, CAN LOCK ONTO MORE SATS - xda-developers
Crypted gps patch
---
CHANGELOG:
6-jan-2012: R5 BASE-2 : little mistake of me in R5 BASE , nothing to worry if you don't update that's fine but I put framework.apk in system/app so it's a wast of space , stupid me , sorry for the trouble
7-jan-2012: R6 BASE: included NATIVE NTFS SUPPORT , drivemount is not needed anymore so it is installed in data/apps and can removed like any app
system addon update according this and added acerDNLA in system addon default icon
Color mods adjusted according this by removing drivemount from it and in the back to default icon mod.
10-jan-2012 : Added new R7 , it's 99% the same as R6 , it is based On a different HC3.2.1 rom and it got a few GPS tweaks and differnet GPS config.
All color mods can be used on this ROM.
If you got no problems with R6 no need to update as it is almost 100% the same ROM.
18-jan-2012: NEW R8 , new and final build of FLEXSTRIKER , crt animation on lockscreen and % battery mod.
19-jan-2012: BASE-2-R8 :GPS depending apps bug and time settings bug solved
22-jan-2012: addONN flasher contains more system apps
27-jan-2012: added FC on browser patch when using the "search on page" option.
For color mods see section "color mods".
9-feb-2012: Release R9 , NEW BUILD IN THOR 3.9R4 kernel , base rom got no more CRT animation and %battery due to the browser "search on page" FC.
Mods are still available with crt animation and patches , a small battery mod will be available if you want crt and % battery on stock look but remember then you got that little bug.
Added swype keyboard and SoundHound .
Redid the rom again from stock 3.2.1 Com gen 15 Acer release .
11-feb-2012: R9.1 release Fixed the missing wifi DHCP patch .
16-feb-2012: R9.5 released:
-Soundback , SoundHound and Lumiread are now in Data app so they can be removed like any app from the market.
-Maps , skype , EsFileexplorer,...... are all updated to latest version.
-Polaris Office bug fixed when opening word or pdf document.
-2New wallpapers in Base rom
-SwitchMe is added in data ,
very nice and good app for having multiple accounts on your tablet .
What you can do with this app:
Privacy -
the most obvious benefit is that you can securely share one device among multiple users, which gives you privacy and peace of mind.
E-reading -
whenever you want to read on your tablet but dont want any notifications or need any connectivity, just switch to an ereader profile.
Testing -
if you are a developer, you can use profiles as clean sandboxes to test your applications and their interaction with the system.
Gaming –
with multiple installations of Android on a single device, you can now play online MMOs as different characters.
Speed -
the games your kids play slow down your tablet, but with SwitchMe you can easily create profiles without games or instant messengers.
Battery life -
when the battery is low but there are important emails or documents to edit later, switch to a profile which only contains these essentials.
Warning for users:


Its critical to understand that incorrect use of this application can potentially harm your device. This can happen if you create and switch to a profile that
exceeds the available memory – switching into this profile will cause a boot loop as Android attempts to unsuccessfully build the Dalvik cache.

Before proceeding with use we strongly recommend that you perform a full nandroid backup through recovery.

UNOFFICIAL A2SD SOLUTIONS ARE NOT SUPPORTED, USE AT YOUR OWN RISK
The Dev of this app contacted me to put this app on my rom with the promise of 100% support .
Support for this app can be found and asked here:
SwitchMe support
18-feb-2012:[/glow]
Polaris Office app uploaded that solves the FC problem when opening a new or existing document.
See patch section.
19-feb-2012:
R9.6 released , exactly the same as R9.5 but with working Polaris Office app so need to use the patch.
-Released R9.5 to R9.6 updater so you don't need to upload the rom again , it also installs the new Polaris Office app ,
so be sure to remove the old one before you flash this updater.
-3Gusb installer for R9.6 uploaded and can be used on R9.5 without any problem.
-ID changer adjusted to R9.6
All the addOn's and mods work on the R9.. release !!!!!!!!!!!
---
PATCHES
FC on browser when using option"search on page"
Solved in R9
If you use a mod :
SEE COLOR THEME SECTION
POLARIS OFFICE FC PROBLEM:
-First uninstall the Polaris office that is on the tablet.
-Download this
POLARIS OFFICE 3.0.3091-ZD
and install like any normal app with a file manager.
-Second Mirror :
Polaris Office mirror 2
---
Experimental :BRAVIA ENGINE camera patch :
look here
Bravia patch
---
COLOR MODS AND THEMES LOOK NEXT POST
---
BIG thanks to Williamfold , Vache , ezterry ,Crypted , THOR .
This rom was tested by 8 differend people and they did not had any problems with it . (xda app FC is the only thing , but if that is rom releated I don't think so , possible that some other random app don't work , but I don't feel like testing every app on the market. If you know any OS that is 100% stable please show it to me)
Please follow instal instructions !!!!!!!!!!!!
BIG thanks to my testers : Biggzz ; iamtek7 ; Rainbowbright081 ; fgcchevy ; The.Yield ; manu33xtro ; garbagecanman .
Again I'm a noob at these linux things , and I'm planning on staying a noob , it's just I like to mess around for my own rom and I wan't to share it with anyone that likes it.
I almost bricked my tab testing this rom but he that is the price you have to pay , lucky for me I always got a backup so people always take a nandroid backup !!!
Civato 2012 the mixer. Family and friends come first !!!!!